Frequently Asked Questions (FAQs)
What are Kuranda Dog Beds?
Kuranda Dog Beds are elevated pet beds designed to provide comfort, support, and durability for dogs of all sizes. They are available in various styles. Kuranda offers Aluminium Dog Beds, which are made from lightweight aircraft-grade aluminium frames, and Poly Resin (PVC) Dog Beds, crafted from sturdy poly-resin frames.
---
What makes Kuranda Dog Beds special?
Kuranda Dog Beds are known for their elevated design, which offers joint relief and comfort to dogs. The beds are also chew-proof, easy to clean, and provide better air circulation for your pet.
---
Are Kuranda Dog Beds suitable for both indoor and outdoor use?
Yes, Kuranda Dog Beds are designed for both indoor and outdoor use, making them versatile options for your pet's comfort.
---
What is the standard fabric used in your dog beds?
Our standard fabric is the blue 40oz Solid Vinyl. It's not only robust and durable but also features a thick and smooth surface that is very easy to clean. However, please note that this fabric doesn't breathe and can hold water if exposed to rain.
---
Are Kuranda Dog Beds chew-proof?
Yes, Kuranda Dog Beds are designed to be chew-proof, making them suitable for dogs who tend to chew on their beds. Any area where the fabric is accessible for chewing is safeguarded by a poly-resin or aluminium sleeve. There are no exposed corners for biting. Occasionally, a dog may manage to bite through a leg or side piece, but such instances are quite rare. The provided image illustrates how the fabric is secured within the bed frame, preventing your dog from accessing it.

Caution: Fabrics can be susceptible to tearing caused by persistent scratching or digging by dogs.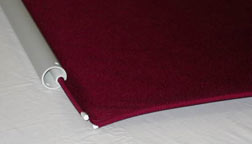 ---
Can dogs dig through the fabric?
While our 40oz vinyl is used for its exceptional durability, a determined digger or scratcher can eventually create a hole with persistent efforts. Keep in mind that even this sturdy fabric can be scratched through over time.
---
How high off the ground are the beds?
Small, Medium, and Large beds are elevated 170mm off the ground, while the X-Large and XX-Large beds are raised 225mm.
---
How do I choose the right size for my dog?
Measure your dog's length while they're lying down, then add around 6 inches to determine the appropriate bed size.
---
Which bed is best for my dog?
The choice depends on your dog's specific needs. The Aluminium bed is the strongest and most durable, making it suitable for many purposes. However, most dogs around the home will be comfortable on the poly resin (PVC) beds. For boarding kennels and animal shelters, we recommend the Aluminium framed beds. The Cambridge range of slimline aluminium beds offers a more budget-friendly option compared to the robust Aluminium bed, making them a practical choice.
---
How do I clean a Kuranda Dog Bed?
Kuranda Dog Beds are easy to clean. Simply wipe down the frame and fabric with a damp cloth.
---
Can I use Kuranda Dog Beds for crate training?
Yes, the Cambridge Slimline range is designed to fit into wire crates, offering a comfortable and supportive space for crate training. While all our beds are crate-compatible (depending on the size of the crate), the Cambridge Slimline range features sleek aluminium beds designed with fitting into wire crates in mind.
---
Are fabrics and parts replaceable?
Absolutely! Fabrics are replaceable as are all parts including frame members, corners, and legs. Even screws and nuts are available.
---
Do Kuranda dog beds arrive ready assembled?
Kuranda Beds are shipped unassembled to save on shipping costs. Assembling your Kuranda Bed is a straightforward process, involving the use of 8-12 screws in the corner brackets, and it should only take approximately 10-15 minutes.

To assemble it, you'll need a Phillips-head screwdriver and an adjustable spanner. If you encounter any difficulties during the assembly process, please don't hesitate to contact us for advice.
---
What if my dog doesn't like the bed?
If the bed is in new condition (without scratches or scuffs on the frame), you can return it within 14 days of purchase. However, please be aware that a £15.00 fabric charge applies as we cannot reuse a fabric, regardless of how little it was used. Additionally, there is a £10 restocking charge.
---
Do Kuranda Dog Beds have a warranty?
Yes, Kuranda offers a one-year chew-proof warranty for the structural integrity of the bed frames. However, please note that fleece pads are not covered under this warranty. Please see our Returns Policy for more information.
---
How can I initiate returns or exchanges?
Returns and exchanges can be initiated within specific time frames. Please see our Returns Policy for more information.
---
Can I get more assistance in selecting the right bed for my dog?
Absolutely! Feel free to get in touch with Kuranda UK's customer service for personalised guidance and recommendations based on your dog's needs and preferences.

For any additional questions or enquiries, please contact Kuranda's customer service at 07885 202381 or 01353 861010